AMAZON HOSTING LARGEST JOB FAIR FOR 50,000 POSITIONS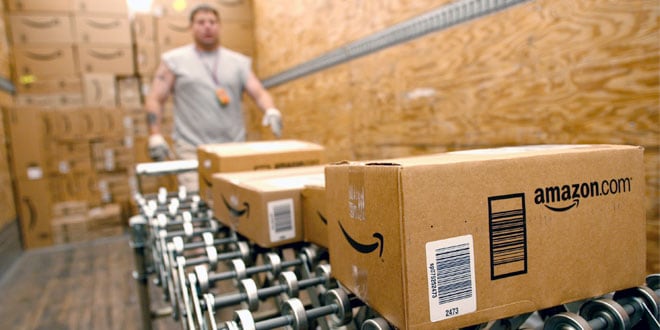 Amazon announced it has more than 50,000 jobs available to fill across its U.S. fulfillment network and the company is opening up 10 of its fulfillment centers on August 2, for the first Nation's largest Job Fair.
Candidates can come on-site to learn more about working at Amazon and the technology it utilizes in its operations. The company plans to make thousands of on-the-spot job offers to qualified candidates who apply on-site as part of Amazon Jobs Day.
Amazon is hiring for tens of thousands of full-time opportunities at its fulfillment centers across the U.S. for employees who will pick, pack and ship customer orders. These opportunities offer highly-competitive pay, health insurance, disability insurance, retirement savings plans and company stock.
The company also offers up to 20 weeks of paid leave and innovative benefits such as Leave Share and Ramp Back, which give new parents flexibility with their growing families. Leave Share lets employees share their Amazon paid leave with their spouse or domestic partner if their spouse's employer doesn't offer paid leave. Ramp Back gives new moms additional control over the pace at which they return to work.
"On August 2, we are excited to host interested candidates to come learn more about the technology we utilize in our operations, see our dedicated onsite classrooms, meet employees and, if interested, apply for a job at our site and receive an on-the-spot job offer. These are great opportunities with runway for advancement. In fact, of our entry level managers across Amazon's U.S. fulfillment centers, nearly 15 percent started in hourly roles and were promoted into their current positions," said John Olsen, Vice President of Amazon's Worldwide Operations Human Resources.
More than 10,000 of these opportunities at the job fair will be part-time jobs at the company's sortation centers throughout the US. These positions will sort and consolidate customer packages to enable superfast shipping speeds and Sunday delivery for customers. Part-time positions offer flexibility for individuals looking to earn money during windows of availability in their schedules. Employees who work more than 20 hours per week receive benefits, including life and disability insurance, dental and vision insurance with premiums paid in full by Amazon, and funding towards medical insurance.
AMAZON JOB FAIR LOCATIONS
Full-time and part-time hourly employees are both eligible for Amazon's innovative Career Choice program that pre-pays 95 percent of tuition for courses related to in-demand fields, regardless of whether the skills are relevant to a future career at Amazon.
Amazon Job Fair events will be held on August 2 from 8 a.m. to noon local time at the company's fulfillment centers in the following locations:
Baltimore, Maryland
Chattanooga, Tennessee
Etna, Ohio
Fall River, Massachusetts
Hebron, Kentucky
Kenosha, Wisconsin
Kent, Washington
Robbinsville, New Jersey
Romeoville, Illinois
Whitestown, Indiana
Additionally, Amazon will be hosting off-site Job Fair events from 8 a.m. to noon local time at the following locations where applicants will be able to walk in and interview for part-time opportunities and walk out with a job offer.
Buffalo, New York
Oklahoma City, Oklahoma