HEINEKEN CREATES NEW BEER STYLE "H41" MADE WITH A YEAST FOUND IN PATAGONIA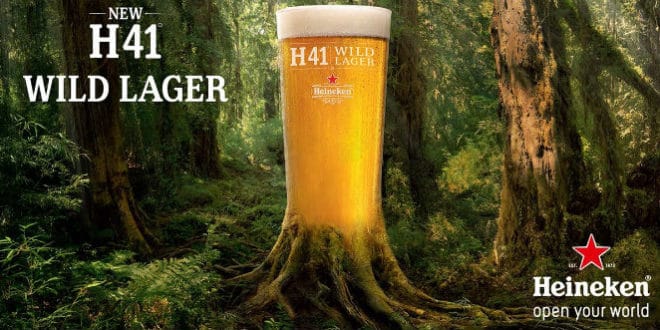 Heineken's spirit of exploration led their investigators to Patagonia, a region located at the southern end of South America, where they made an incredible discovery, the H41. With this name, they identified the rare "mother yeast" that inspired the brand's brewer masters to create a new beer style.
H41 represents a new beer style –Wild Lager– made with a yeast found in nature, characterized by a fuller taste, with spicy notes balanced by subtle fruity hints.
This limited edition is a new beer style that will push the boundaries of lager, and play a unique role in the market, as there are no other lagers with this unique taste. Future Wild Lager Explorations will stretch the lager boundaries even further.
HEINEKEN'S NEW BEER STYLE IS WILD
The name H41 is derived from the latitude co-ordinate of the beech forest in Patagonia where this yeast was discovered: 41 South; the H stands for Heineken. The yeast is an enhancer of the brewing process and is essential in defining the final taste of the beer.
The main challenge for the brewers is tending to the live yeast. They need to have excellent craftsman skills to ensure the brew is always as expected. Changing the yeast gives a spectrum of new tastes.
Willem van Waesberghe, Heineken Master Brewer, commented: "Central to the famous Heineken taste is our unique A-yeast. It was first used 130 years ago by Dr. Elion, a Heineken brewer trained by Louis Pasteur. It is still used today. The exact make up of our A-yeast is a closely guarded secret. However," he continued, "when the 'mother' of our A-yeast was discovered in Patagonia, it presented us with a unique opportunity. Using our unrivalled expertise, Heineken's Master Brewers began to work with the mother yeast to unlock a spectrum of new flavors. Our 'Lager Explorations' series was born. The taste of every beer in the series will be surprising and intense, but still balanced and refreshing."
"HEINEKEN has more than 150 years of passion for beer and brewing mastery, with outstanding expertise in yeast", commented Katharine Preville, Heineken Brand Manager at HEINEKEN USA.